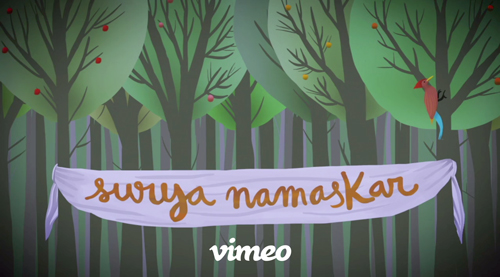 If you're new to yoga, at first glance, Surya Namaskar [Sun Salutation] might look as challenging as a Bolshoi Ballet, but after this class, a little homework and some practise you'll be waking up muscles, magic and space you didn't know were in you.
The sequence is only 9 postures (the way I teach it) that you learn to flow through from 1-9 and then back to 1. With a little practise it's a piece of cake. 1. Tadasana [Mountain Pose] to 2. Hasta Uttanasana [Sky Reaching Pose] to 3. Uttanasana [Intense Forward Fold] to 4. Ardha Uttanasana [Half Forward Fold] to 5. Ashwa Sanchalanasana [Equestrian Pose or Low Lunge] to 6. Phalakasana [Plank Pose] to 7. Chaturanga Dandasana [Four-Limbed Staff Pose] to 8. Urdhva Mukha Svanasana [Upward Dog] to 9. Adho Mukha Svanasana [Downward Dog] and then all the way back in reverse to Tadasana.
This hour-long class, like most Indri Yoga classes, begins with a short, Sukasana [Easy Pose/Meditation] and Nadi Shodhana [Alternate Nostril Breathing] and ends with Savasana [Corpse Pose.] The bulk of the class is an intense and in-depth Surya Namaskar study & practise and there are modifications; both for easing into the more challenging postures, and variations to turn up the volume if you feel like going deeper.